Dr. Michael Baskin specializes in the diagnosis and non-surgical treatment of pain-related spinal disorders. He is board-certified in Physical Medicine and Rehabilitation (PM&R), as well as interventional pain management. Using his comprehensive spine and musculoskeletal training to determine the appropriate line of treatment for a variety of spinal conditions, Dr. Baskin specializes in interventional spine surgery and is able to offer fluoroscopic spinal injection procedures to eliminate spine-related pain and restore normal activities and function. Dr. Baskin's services and procedures include:
Interventional Pain Management
Advanced Neuromodulation
Hip, Shoulder, and Elbow Pain Management
Dr. Baskin is an expert in cervical, thoracic, and lumbar procedures, as well as a leading expert in advanced neuromodulation, neurotomy, discography, and intradiscal procedures. He is also adept in treating thoracic and lumbar compression fractures, and routinely performs kyphoplasty procedures in our in-office procedure suite. Dr. Baskin also provides care of non-spinal musculoskeletal disorders such as hip, shoulder, and elbow pain, as well as postoperative total knee arthroplasty pain.
Fluoroscopic Spine Injection
An epidural steroid injection is a minimally invasive procedure that is performed in our office, and patients usually return home within 30 minutes after their procedure.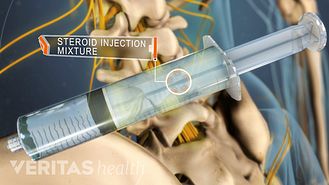 Video: Epidural Steroid Injections for Back Pain and Leg Pain
A lumbar epidural steroid injection delivers steroid medication directly around the area that may be causing pain. Watch Now 
A complete list of current medications and medications taken in the recent past, such as blood thinners and antibiotics, must be discussed with the Dr. Baskin and his staff. Some of these medications may need to be stopped a few days before the injection procedure to avoid complications. It will also be necessary to sign a consent form before the procedure after the possible benefits and risks have been discussed.
Preparing to Receive an Epidural Steroid Injection
Instructions typically include no eating and drinking for about 6 hours before the procedure. A hospital gown is worn to allow better access to the injection site. Conscious sedation using relaxation medication may be given to east the patient's anxiety
The injection is usually given while the patient lies on their stomach (prone position) on a fluoroscopy (live x-ray) table. The procedure may take up to 15 minutes. Dr. Baskin may decide to use a transforaminal, interlaminar, or caudal route to administer the injection.
The common steps involved in the injection procedure are as follows
The skin over the injection site is marked and cleaned with betadine.
A fluoroscopic x-ray is used to locate the correct vertebral level for needle guidance; the live images can be seen on a computer screen.
A local anesthetic is injected into the skin and underlying tissues to numb the area.
An epidural spinal needle is inserted into the intended injection site and guided using fluoroscopy.
A contrast dye is injected into the epidural space to check the spread of the injected contents.
Once the spread is confirmed, the steroid medication is injected into the epidural space.
A tingling or mild burning sensation or the feeling of pressure may be experienced as the medication enters the epidural space. When the injection is completed, the irritation and discomfort usually disappear within a few minutes. The patient is usually monitored in a recovery room for  where vital signs are monitored.
Driving and strenuous physical activities and flying in an airplane are not recommended on the same day after the procedure.
Pain Relief and Recovery After an Epidural Steroid Injection
While the local anesthetic in an epidural steroid injection usually provides immediate pain relief, it may take up to 2 weeks for the steroids to take effect.
Returning to Daily Activities
Regular activities may be resumed slowly on the day after the injection. Ice packs may be used at home if pain occurs at the injection site. Ice packs are usually used for 15 to 20 minutes at a time with a break of at least two hours in between to avoid skin injury. Hot baths, sauna, and swimming are usually not recommended for 2 to 3 days after the injection to avoid the risk of infection.
The epidural injection procedure is usually painless, but light soreness or discomfort may occur in some patients over the next day or two. With adequate precautionary measures and post-injection care of the treatment site, patients can typically resume all their daily activities within a week of the injection.