Interventional Spine / Physiatry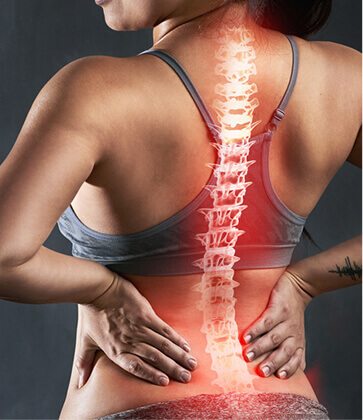 Pain can be a constant source of anxiety, disruptive and interfering in everyday things you need and want to do. It diminishes quality of life and robs people of their independence. When you live with chronic pain, due to injury or conditions such as arthritis, you are the only one who can know how it truly feels.
The musculoskeletal system is complex and is often prone to injury and pain from degeneration due to disease and wear and tear. The most common type of injury or pain that people suffer from is back pain, commonly lower back pain in the lumbar region of the spine. When it comes to chronic back pain, research states, that 80 percent of people will have back problems at some point in their lives and is noted as being a main cause of disability in adults throughout the United States.
The spine provides structural support for the rest of the body. The spine contains a group of 33 individual interlocking bones called vertebrae, which are the bony building blocks of the spine, making it possible for our spine to function properly. These vertebrae also act as a shock absorber or protective barrier from injury and damage.
Also known as a physical medicine and rehabilitation, physiatry is a specialty that focuses on relieving pain, restoring function and improving mobility through non-invasive (nonsurgical) treatment methods. Physiatry combines methods of orthopedics and physical therapy. Physiatrists are experts who specialize in diagnosing injury and conditions affecting the musculoskeletal system, i.e., muscles, bones, nerves, ligaments, tendons and the nervous system, which includes other important structures, such as the brain and spinal cord, which often affects how the body moves.
As physical medicine and rehabilitation addresses how much a person is able to function when limitations from a disability, impairment, or disease are placed upon them, the focus of physiatry is to help patients reduce or relieve pain and restore function lost due to injury or illness. These physical impairments and disabilities can range from temporary or acute conditions such as a sports or work-related injury, to long-lasting severe injuries and conditions. These diseases and conditions can cause severe, chronic pain, that often affect a person's ability to function normally, and will require long-term rehabilitation.
At Personalized Orthopedics of the Palm Beaches, our physiatrist treats patients with upper or lower back pain, neck pain, knee pain, hip pain, and even headaches that have not responded to other conservative treatment methods. As physiatrists have a team approach philosophy of care, they often work with other specialists, such as physical and occupational therapists, recreational and speech therapists, nurses, and psychologists, to help patients rehabilitate, restore functional ability, minimize pain, and enhance their overall quality of life.
The physiatrist interventional spine specialist at Personalized Orthopedics of the Palm Beaches will work with other specialists such as physical therapists to treat patients suffering from spine problems, chronic pain, sports injuries, brain and spinal cord injuries, and work injuries. These conditions include the following:
Cerebral Palsy
Stroke
Multiple Sclerosis
Back and neck pain
Sciatica
Spinal cord injuries
It is important to mention, that while a physiatrist does address and treat pain, interventional pain management is not the main focus. Not all physiatrists are pain management doctors, but rather, these doctors focus more on treating conditions of mainly the spine, neck, lower, and mid back. Based on your diagnosis, we use nonsurgical methods combined with rehabilitation techniques, that may provide pain relief and improved mobility, such as:
Anti-inflammatory Injections
Nerve-blocking injections
Spinal Cord Stimulation
Fluoroscopic-guided injections
Radiofrequency ablation
Physiatrists also use many diagnostic imaging tools, such as X-rays, MRI scans, and PET scans, to more accurately diagnose and provide correct treatment, and help pinpoint what exactly is the main cause or source of pain, weakness, or numbness. Some common procedures are used to identify the source of muscle weakness and nerve damage, in order to control and reduce back pain. At Personalized Orthopedics of the Palm Beaches we also perform the following:
Fluoroscopy: While an X-ray takes a single picture, a fluoroscope during a fluoroscopy takes continuous X-rays and sends live images to a monitor. This test allows the physiatrist to get an inside look at your spine and assists them in performing procedures such as a steroid injection or nerve block.
ESI Injections: We offer patients epidural steroid injections (ESI) for the lower and upper back. These injections are a combination of a corticosteroid – a strong anti-inflammatory medicine – with a local anesthetic pain relief medicine. Reducing swelling and inflammation can relieve pain by taking pressure off nerves and other soft tissues. The local anesthetic medicine helps give you immediate pain relief. These injections provide relief more quickly than standard corticosteroid medicines. Preferred Orthopedics regularly offers epidural steroid injections to patients as one of the non-surgical options to help with pain relief.
Spinal Cord Stimulation: Spinal cord stimulation (SCS), also known as neuromodulation, is a type of therapy used to help with chronic pain, especially the back and neck. Electric pulses are sent through the spinal cord to a small device implanted under the skin. This sensation of tingling is called paresthesia. Ultimately physiatrists suggest spinal cord stimulation for someone with severe chronic back pain that has not responded to other modes of treatment. The electric current of SCS interrupts pain signals being sent to the brain, hoping to give patients pain relief.
At Personalized Orthopaedics of the Palm Beaches our physiatrist can educate you and give you an accurate diagnosis providing the proper treatment,and most importantly, aim to restore full function and mobility, getting you back to living your life to the fullest.
To determine which interventional spine treatment method is best for you, call our physiatrist at the Personalized Orthopedics of the Palm Beaches at (561) 733-5888, Ext. 1 to request an appointment.