Total Joint Replacement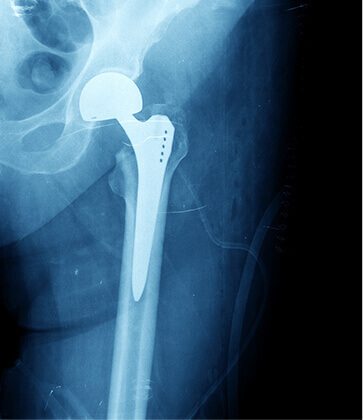 Don't let joint pain hold you back from what you love to do
Joint pain is disruptive and disabling to an individual's lifestyle. Joints can become damaged as a result of aging, wear and tear, injuries, and conditions such as osteoarthritis, which is the most common type of arthritis, causing pain, joint degeneration, and disability. Osteoarthritis affects over 21 million Americans. As the cartilage that lines the joints continues to wear away, the blood flow inside the joint becomes restricted. If a joint does become damaged, the pain and disability that accompanies this degenerative process can become quite unbearable, accompanied by a host of other problems.
Joint disorders cause loss of function, mobility, stiffness, and pain. If nonsurgical, methods of treatment such as medication, cortisone injections, PRP therapy, physical therapy, and other methods, no longer work to provide pain relief, your doctor will recommend joint replacement surgery.
Over 500,000 American adults have joint replacement surgery each year. Thanks to technology that is always evolving, some of the greatest orthopedic technological advances in history have made it possible for people to receive brand-new hips, knees and shoulders, and this number of people continues to grow.
At Personalized Orthopedics of the Palm Beaches we perform the following procedures for the hip, knee, and shoulder:
Upper Extremity- Shoulder and Elbow
Reverse Shoulder Replacement
Shoulder Revision
Lower Extremity- Hip and Knee
Direct Anterior Hip Replacement
Mini-Posterior Hip Replacement
Revision Total Hip Replacement
Personalized Partial and Total Knee Replacement
Revision Total Knee Replacement
Knee Revision / Osteotomy
Total joint replacement surgery, has progressed leaps and bounds in the last couple of decades and is regarded as one of the most successful surgeries in the field of orthopedics. As there are millions of people around the world who suffer from joint disorders, this form of surgical treatment has really come as a savior and remedy, for such patients who have long suffered from chronic pain of the hip, knee, or shoulder.
As surgical and technological advancements have continuously evolved, today, it has made it possible for surgeons specializing in joint replacement, to restore the injured or degenerated joint, so that the individual can return back to their normal active and productive lifestyles after surgery, with optimal function and range of motion. More than ever, joint replacement surgery is more advanced, with better understanding of human anatomy, refined surgical techniques, technological advancement in accuracy and design of implants to ensure pain relief, faster recovery, and less risk of complications.
During total joint replacement surgery, also called arthroplasty, the orthopedic surgeon removes the damaged portion of your hip, knee, or shoulder, and replaces it with an artificial joint, made of metal, plastic, or ceramic, called a prosthesis. The prosthesis is designed to replicate a normal, healthy joint as much as possible.
There are a greater variety of artificial joints available now than ever before. Our expert board-certified orthopedic surgeons at Personalized Orthopedics of the Palm Beaches, will help decide if you are a candidate for a total joint replacement, and if so, which option is the best for your individual needs.
At Personalized Orthopedics of the Palm Beaches, we turn your disability into ability. We utilize the most advanced surgical methods available today, including minimally invasive procedures, whenever possible, to expedite the recovery process. The most common total joint replacement procedures we perform include:
For those suffering from conditions such as hip fractures, hip dislocations, arthritis of the hip, hip labral tears, and hip impingement, total hip joint replacement surgery is common. The hip is also a ball-and-socket joint, which allows us to move our lower limbs. The hip is one of the most commonly replaced joints. Factors of aging, wear and tear, overuse, injury, and common conditions such as osteoarthritis are the main reasons for hip replacement surgery. Yet, another common reason is falls.
The hip forms when the ball of the thigh bone (femur) joins the pelvis into the socket called the acetabulum. There is cartilage covering both the bone of the femur and the acetabulum of the pelvis in the hip joint. This helps to prevent bone on bone friction, keeping the bones from wearing down. Damage to any of the hip joint components can cause significant chronic pain, discomfort, and dysfunction (limited mobility).
During a total hip replacement, the surgeon replaces the total hip. The femur and acetabulum are replaced with artificial parts, relieving pain, and improving mobility and function after surgery.
The knee is called a hinge joint, due to how it bends and straightens. The knee is composed of the thigh bone (femur), the shin or lower leg bone (tibia), the fibula, and the patella (kneecap). Also supporting and accompanying the knee joint is several ligaments, including the ACL, PCL, MCL, and LCL. This joint is complex, which makes it very prone to injury. Knee problems happen to be the most common reason why people visit an orthopedic surgeon.
The knee contributes to stability, balance, and mobility. If the knee becomes injured or degenerates, it can be very hard to navigate through your daily life without chronic pain. The knee's cartilage which acts a shock absorber or cushion between the bones, starts to wear down, which causes painful bone-on-bone friction, making it hard to do everyday activities such as running, walking, and playing sports.
During a total knee replacement, the entire knee joint is replaced with an artificial prosthesis. The end of the femur is replaced with metal, with the tibia lined with a metal tray and plastic, known as polyethylene. Friction Is reduced in the joint, relieving pain and allowing a greater range of motion.
After a total joint replacement procedure, patients usually experience immediate relief from the joint pain suffered before the replacement, due to the old joint being removed, and the prosthesis acting like a healthy joint.
Physical therapy and rehabilitation typically starts immediately after a joint replacement. It will last for several weeks, to help speed up the healing process, strengthen the muscles surrounding the new joint, to ensure that the patient gets full use of the joint, and most importantly, helps the patient stay active, hoping for a successful recovery.
Don't let joint pain hold you back from what you love to do. When it's time for joint replacement surgery, the board-certified surgeons at Personalized Orthopedics of the Palm Beaches are experts at performing the procedure that you need. With years of experience we provide the highest quality joint replacement surgery.
To learn if you may be a candidate for joint replacement, call Personalized Orthopedics of the Palm Beaches at (561) 733-5888, Ext. 1 to request an appointment.